BEGINNERS
We recommend anyone curious about Kiteboarding to do the one-day "Discover kiteboarding" class. You can check out the sport and get an overview of everything from the skills to the gear. You can see how the sport feels for you. After your first session you will be able to get a concept of the sport and how much training you may want to take, then if you like it you can always upgrade to a longer course.!!
MORE DETAILS
2.

 ADVANCE LESSON  kitesurf

I don't know if I've experienced a more magical feeling on the water than when I rode away from my own front-roll downloop transition nearly two years later. Give yourself the chance to experience that feeling. By taking a lesson, there's no reason you can't actualize that thing, whatever it was, that got you dreaming in the first place.
MORE DETAILS
KITE LIFT.
SHUTTLE service
if you still are not ready to go to the beach
if the wind on the beach, light or gusty
if the beach is too crowded
if you want to surf without many people around
MORE DETAILS
4.

 SNOWKITE

Welcome to Snowkiting! These courses will get you well on your way to being an independent snowkiter. By combining both our progressive level I and Level II lesson plans, you can be snowkiting on your own and have all the fresh snow to yourself. Our goal as professional snowkite instructors is for you to become a safe and independent snowkiter. These lessons will give you all the fundamental tools needed for snowkiting success
MORE DETAILS
Why Improve Your Kiteboarding Skills with kitecentergardalake?
kitecentergardalake has been teaching kiteboarding lessons every season since 2000. We invite you to see what our customers say about us on our Testimonials page. We enjoy exclusive kiteboarding lesson teaching rights of the best beach locations in the Lake Garda– Navene Beach – malcesine – capore moal , Pier – . Learn at these ideal beginner and intermediate locations where you will come back to practice on your own.
We have many instructors working with us and are always hiring new ones! Our instructors are certified by the International Kiteboarding Organization (FIV-IKO – )
KITE CENTER SPOT   CAPO REMOAL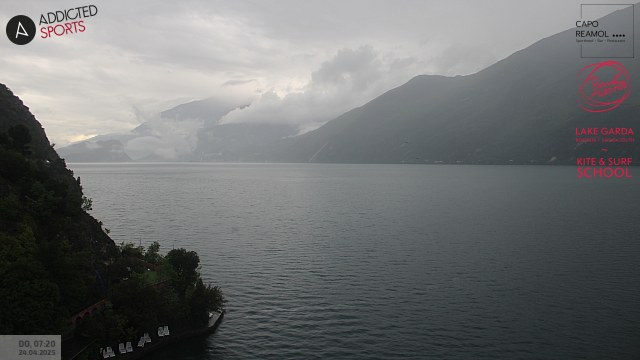 WIND FORECAST CHART 
FORECAST WIND

Ale
the mind Kite center Garda lake with its supervision can rest easy
Cinzia
Teaching experience and a professional experience of all respect
Faraguna Emil
Large capacity always available and excellent rider in teaching
Matthias
Giovane e dinamico Rider  saprà comunicarvi la sua passione per il kitesurf immediatamente
Federico
young and dynamic very careful with young kiters;)
Pasquale
The tranquility in person you want to know everything here is theoretical here vs. instructor
4.

  Il 77 Year Old Kitesurfer | Prime e Fuoco Selects

passione, passione questa è il motore di quest'uomo che vi fa anche capire che il Kitesurf è veramente per tutti
TESTIMONIALS
Reputation is everything and our work is quality.
Nick Scarpetta
MY SPOT! PASSION SCHOOL!" 5 su 5 stelleRecensito il 26 ottobre 2015 Questo è senza alcuna ombra di dubbio il miglior spot della parte veronese! Ultimo lido per praticare Kite (in trentino è vietato) personale preparatissimo e simpaticissimo, ottimo livello di insegnamento in quanto si percepisce la passione per lo sport da parte degli insegnanti! Materiali sempre dell'anno in corso! Si esce la mattina presto con il Peler oppure dopo pranzo con la Ora! Quando si rientra finchè si aspet
Fabio Marinelli
Great spot, great team, great services and top material!
Coitoergosum Bellinzona, Svizzera
good fun!" 5 su 5 stelleRecensito il 3 novembre 2015 tramite dispositivo mobile Questa recensione è stata tradotta dall'inglese con traduttore automatico Info Mostra traduzioni automaticheSì No We did 6 morning trips including the basic and advanced course, every time with good wind conditions. Within the 2nd day we were able to ride on the board. At the end we could ride upwind and be selfefficiant with everything. The crew is professional,reliable and they know where you can get some wind.
Marta_Cana Mantova, Italia
"Competenti e professionali" 4 su 5 stelleRecensito il 14 giugno 2013 Sono ormai 4 anni che mio marito frequenta questo centro kite. Offre non solo lezioni per tutti i livelli, sia private che collettive, ma anche la possibilità di acquistare i lift, singoli o a pacchetto di 10 uscite. Prezzi abbastanza nella norma. Dispone di servizio di rimessaggio, diversi gommoni per le uscite, noleggio attrezzatura e di spiaggia dove poter 'parcheggiare' consorti & co. Si trova in località Navene,
Aziz Essalhine
Ottima scuola grande alessandro
Maurizio Socco
Esperienza da vendere, professionalità, ottima attrezzatura. Posto spelendido dove imparare in sicurezza la tecnica senza lo stress e senza i vincoli tipici delle lezioni al mare (ingresso e uscita in acqua, problema onde, attenzione al fondale, presenza di troppi kiters -esperti e no- nelle vicinanze, etc ... ). Il lago permette di concentrarti maggiormente sulla confidenza con il "sentire" gli elementi e il kite, fattore che a livello piscologico, soprattutto per chi è alle prime armi, può